arrow_back
Veloscenic : Paris to Mont-Saint-Michel cycle route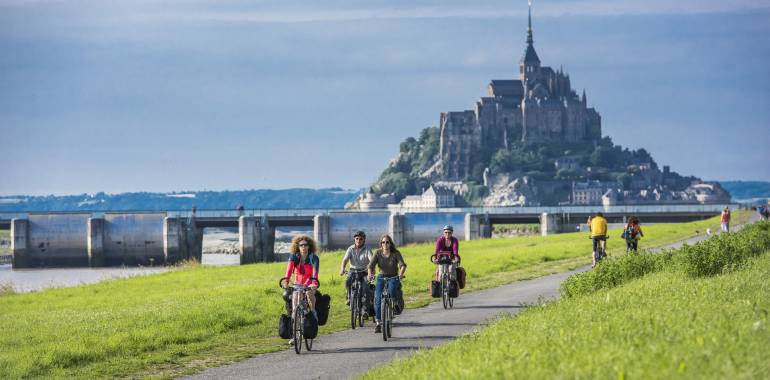 Veloscenic is a cycling adventure across northwest France. Veloscenic is a well-signposted route from Paris and its region, Ile-de-France, via Chartres and Normandy, to the Mont St-Michel. This exceptional trail crosses such gorgeous areas as the Chevreuse Valley, the Perche, French Maine and the Bocage Normand. The route is accessible to different levels of cyclist. Long stretches are along greenways, linked by quiet roads.The Ile-de-France section from Massy to Epernon is provisional. But it is easy to reach other sections by train + bike to enjoy the greenways.
Signposting and state of the itinerary
Veloscenic - Paris to Mont-Saint-Michel is signposted on 98% on the itinerary. 
The route is mainly developped on designated lanes.
Services and accomodations "Accueil Vélo" ("Cyclists Welcome") on Veloscenic
Nearly 80 accomodations (campings, hotels, lodges, guest houses) "Accueil Vélo" ("Cyclists Welcome") are located at less than 5km away from the itinerary and they guarantee quality services for cyclists such as a closed garage for example. We strongly advise to book your accomodations in advance (including campings), especially in touristic areas.
Trains and public transports alongside Veloscenic
Île de France : Train stations in Paris, Versailles, Massy and Rambouillet
Train stations in Epernon, Maintenon and Chartres
Train stations in Illiers-Combray and Nogent-le-Rorou 
Le Perche : Train stations in Nogent-le-Retrou, Condé-sur-Huisne, Alençon, Flers
Close to the Mont St-Michel : Train stations in Pontorson, Pontaubault and Avranches
Long-time parkings on Veloscenic
The best cycling holiday breaks
to make the most of this
Did you like this?
You may also be interested in this...
They did it!
favorite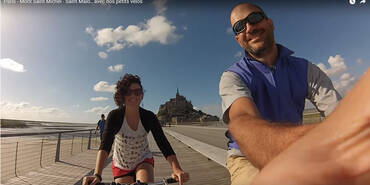 Le voyage en Brompton c'est possible, la preuve en images avec ce couple sur La Véloscénie de Paris au Mont Saint Michel !
favorite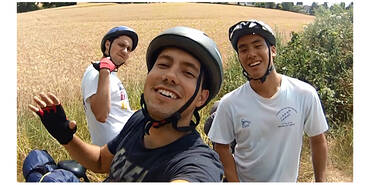 De Paris au Mont-St-Michel, ces amis d'enfance ont parcouru La Véloscénie !
favorite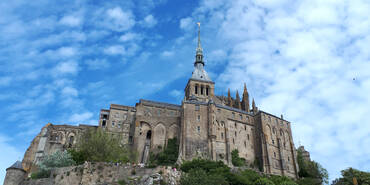 Témoignage de Rachel : la Véloscénie en solitaire jusqu'au Mont St Michel.