arrow_back
This stage takes you through beautiful, quintessential Normandy countryside, with traditional hedgerows, apple orchards and woods. You cycle along quiet roads, one like a balcony overlooking Les Andaines Forest.
Itinerary
You follow quiet roads, some steep, for example leaving Bagnoles, or climbing to Domfront. Cycling services are available at Perrou. Signposting in place in Orne except in the town of Domfront center.
Link
At the bottom of Domfront, you can join a greenway going north almost as far as Flers station.
Railway station
Flers : Paris > Granville line, Express Regional Transport (TER) accessible to bikes.
Tourism Offices
Bagnoles de l'Orne : +33 2 33 37 85 66
Domfront : +33 2 33 38 53 97
Not to be missed
Domfront : Its castle and park – The alleyways of the medieval city – The Greenway Flers > Domfront along the Varenne
They did it!
favorite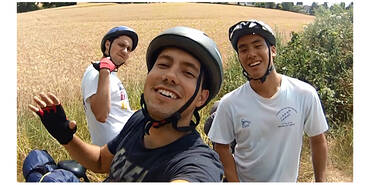 De Paris au Mont-St-Michel, ces amis d'enfance ont parcouru La Véloscénie !
favorite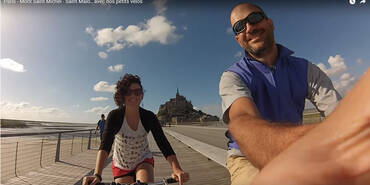 Le voyage en Brompton c'est possible, la preuve en images avec ce couple sur La Véloscénie de Paris au Mont Saint Michel !
favorite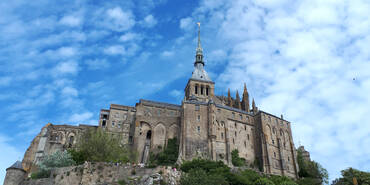 Témoignage de Rachel : la Véloscénie en solitaire jusqu'au Mont St Michel.