Old railway, Nature & small heritage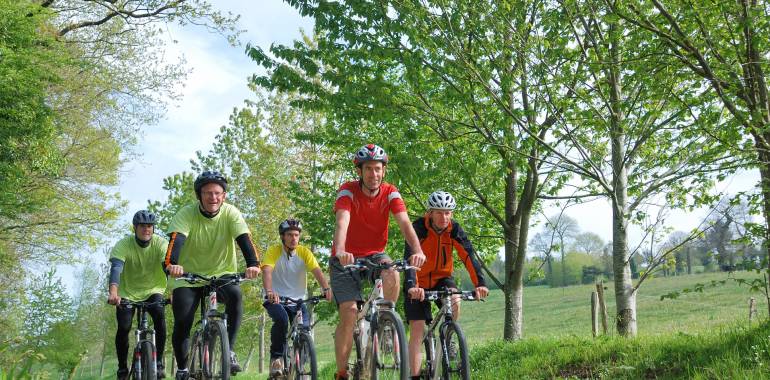 34,88 km cycling route from Loudéac to Merdrignac
Between Loudéac and Pont Querra (Plémet), this rural greenway takes on a wilder look as it flirts with the Lié River. At Laurenan, don't miss the Japanese garden (a private property) and the paintings of Breton landscapes displayed on the outer walls of a few village houses. Also, venture off the route to explore the wild Landes du Mené, scattered with heritage treasures.
Waytypes of the stage
Cycle path: 31,61 km
By road: 2,44 km
Surface of the stage
Lisse: 2,44 km
Rugueux: 31,61 km
The route
The signage along the route is complete, but interspersed with older signs indicating 'Chemin de Randonnée' or 'Chemin du Petit Train' alongside more recent signs for 'V6' (Route 6). Note that the distance given in km varies according to the type of panel; the older ones only cover stretches on the greenway, while the more recent ones calculate right up to the destination. In villages near the greenway you won't always find signs leading to the greenway, so if you leave the route to explore such villages, note how to get back to the greenway.
Take care: note there's a dangerous crossing of the D 792 road at the level of Plémet, plus there's a dangerous point where you have to cross the D 6 road before Merdrignac.
The surface is mainly sandy, so watch out for certain softer stretches and parts with ruts, in order not to be taken by surprise.
Accommodation on the stage