arrow_back
Canals & intimate rivers, Castles & Monuments
This Loire à Vélo stage takes you away from Blois along the Loire's south bank, then a little further south to the village of Candé-sur-Beuvron via vine-covered slopes. Next, follow the River Beuvron back to the majestic Loire and the splendid Château de Chaumont-sur-Loire, perched above the river, with magnificent gardens and garden festival.
Waytypes of the stage
By road: 6,61 km
Cycle path: 13,81 km
Route
At Blois, cross grand Jacques-Gabriel Bridge, then turn right onto the cycle path. From Madon to Candé-sur-Beuvron, follow Pays des Châteaux Cycling Circuit No.1: « Loire confluence ». Note the steep slope at Candé. Just after the bridge in Candé, follow the path to the right taking you beside the Beuvron River until you rejoin the Loire. Continue to Chaumont-sur-Loire via the newly laid-out cycle path.
Railway station - SNCF
Blois train station: on average, 10 trains per day allow bikes on board, either going towards Tours or towards Orléans and Paris (note that there are steps to negotiate).
Onzain train station: on average, 10 trains per day allow bikes on board, heading either to Tours or to Blois and Orléans.
Don't miss
Candé-sur-Beuvron: its charming old riverside port, the picturesque village and the castle
Chaumont-sur-Loire: the castle, its grounds and stables; the Festival international des Jardins, a prestigious international garden design event held here every year, April to October. Eateries and a shop on the spot.
Tourist Information Centre
Blois : +33(0)2 54 90 41 41
Candé-sur-Beuvron : +33(0)2 54 44 00 44
Onzain : +33(0)2 54 20 78 52
Chaumont-sur-Loire : +33(0)2 54 20 91 73
The best cycling holiday breaks
to make the most of this
Did you like this?
You may also be interested in this...
They did it!
favorite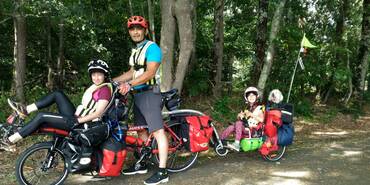 Ils sont 4 et partent en voyage en tandem + remorque en famille !
favorite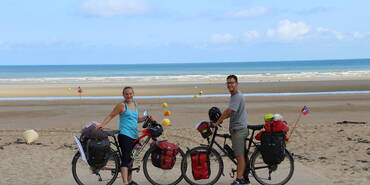 Une aventure de plusieurs mois de la France jusqu'à l'Allemagne