arrow_back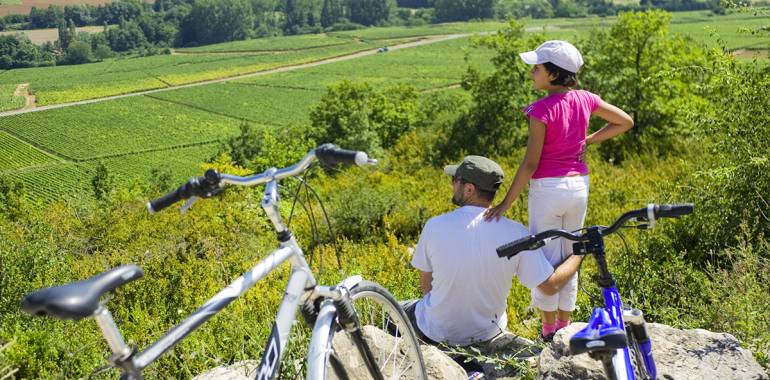 Between Beaune and Santenay, the Burgundy Vineyard Way takes you meandering through the region's most famous wine appellations. Make fascinating discoveries among these blessed vineyards: visit wine cellars and winemakers' villages; enjoy local gastronomy among the vines; and take in the views of the Burgundian hills. This stage is easy and well signposted.
Route details
This stage, on small roads and tracks through the vines, is well signposted. Leave Beaune via the Parc de la Bouzaise. At Santenay, you can continue cycling south for Chalon by following the greenway along the Canal du Centre's towpath.
Nearby too, note the greenway linking Santenay to Nolay.
SNCF train services
Train stations at Beaune, Meursault, Chagny and Santenay.
TER regional line Paris > Dijon > Beaune > Chalon > Mâcon > Lyon (numerous trains – bikes can be transported free of charge)
TGV high-speed line Paris > Dijon > Chalon, with limited spaces available for bikes when reserved in advance (up to 6 spaces for bikes per train, by reservation only).
TER regional line Chalon > Chagny > Santenay > Montchanin (c. 6 trains per day).
Don't miss
Beaune: the exceptional historic town centre – the Hospices, the stunning medieval hospital, now an historical and art museum – the collegiate church of Notre-Dame - Musée du Vin (wine museum), tel 03 80 22 08 19 – Musée des Beaux-Arts (fine arts museum) - Pommard: with fine views - Meursault: the historic fort - maisons du dimanche, typical stone houses – pretty washhouses- Chassagne Montrachet: beautiful houses - Santenay: an elegant village, with a casino.
Tourist information
Beaune: tel 03 80 26 21 30
Meursault: tel 03 80 21 25 90
Santenay: tel 03 80 20 63 15
Markets:
Beaune: Wednesday and Saturday mornings
Meursault: Friday mornings
Santenay: Thursday mornings (in summer)