arrow_back
Le Tour de Bourgogne by bike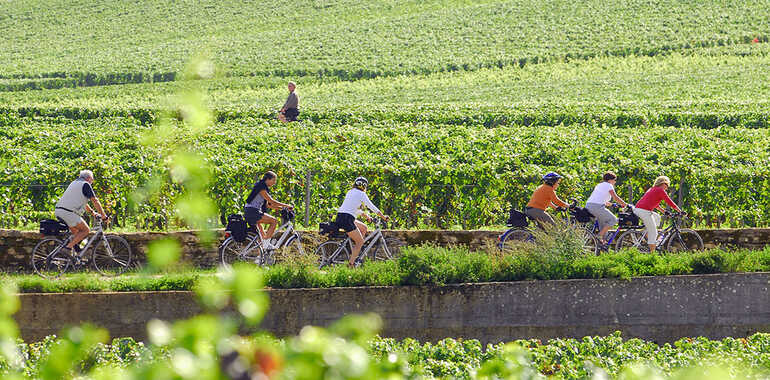 Press the pause button to cycle, stop, discover, leave... whenever you want, as you wish, along a canal, an abandoned railway track or a small country road. For a few hours or a few days, on two wheels, on rollerblades or behind a stroller, go and meet people and heritage on the Tour de Bourgogne by bike. Two routes ideally calibrated for your first cycling experiences!
Waytypes of the cycle route
Cycle path: 461,38 km
By road: 192,44 km
Inconnu: 12,67 km
Surface of the cycle route
Lisse: 131,23 km
Rugueux: 286,07 km
Inconnu: 249,22 km
The Tour de Bourgogne allows you to travel all over Burgundy thanks to its network of itineraries. A real playground for family cycling holidays.
It consists of the various routes detailed below, which are linked together to form a magnificent network of cycle routes and greenways:
The Burgundy Canal which leads you from the gates of Auxerre to those of Dijon, 45% of greenways and 55% of towpaths,
The Vine Route which undulates from Dijon to Santenay and even Chalon, where you can reach the Canal du Centre (EuroVelo 6), on quiet small roads,
The Canal latéral à la Loire, Ariane's line to the pretty historic towns of Digoin, Bourbon-Lancy, Decize or Nevers, more than 40% of which are greenways,
The Canal du Centre de Chalon in Digoin, from the Saône to the Loire, this section of EuroVelo 6 in France uses the Canal du Centre which bypasses southern Burgundy, with nearly 40% of greenways,
The Canal du Nivernais, its greenway, part of the Tour de Bourgogne by bike, leads us to discover this little jewel from Auxerre to Decize, nearly 90% of which are greenways, South Burgundy, a superb cycling loop from Chalon to Mâcon, via the green lane of the Chalon coast and back by the blue lane near the Saône, from Mâcon to Chalon. More than 90% of greenways for the Côte chalonnaise.
Signeposting and route status
The Tour de Bourgogne is 83% open in both directions. 
All these routes are open but there are still some sections being finalized on the Canal du Nivernais, the Canal de Bourgogne and the Voie Bleue.
Route mainly on secure roads such as towpaths, greenways and small roads with very low traffic.
Services and accommodation for cyclists on Le Tour de Bourgogne
Many accommodations (campsites, hotels, cottages, bed and breakfast) Accueil Vélo are located less than 5 km from the itinerary and guarantee you quality services such as a closed garage for your bike for example.
We strongly recommend that you book your accommodation in advance, especially in tourist areas.
Trains and transport along Tour de Bourgogne
The gateway cities of the route are served by many trains accepting bicycles to and from Paris.
In particular the TGV Est trains to Dijon, Montbard, Beaune, Chalon-sur-Saône, Le Creusot/Montchanin/Montceau-les-Mines, Mâcon-Loché. All these stations then provide TER connections to your departure point.
Dijon also has direct TGV links with Disneyland-Paris, Paris-Roissy and Lille airports (with Eurostar connections to London and Thalys to Brussels).
Direct connections by TGV exist with the South of France: Marseille/Montpellier-Dijon: 3 hours.
TGV links also exist from Switzerland: Zurich, Bern, Lausanne, Lausanne, Geneva.
See the information website on regional transport in Burgundy-Franche-Comté: http://viamobigo.fr/
The best cycling holiday breaks
to make the most of this
Did you like this?
You may also be interested in this...
They did it!
favorite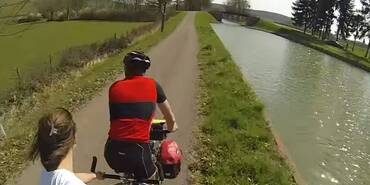 Deux intrépides passionnés du vélo se sont lancés dans un tour de Bourgogne en tandem !
favorite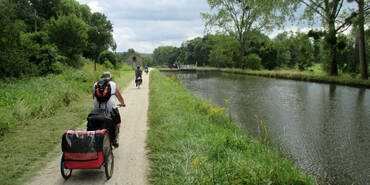 Un couple avec 2 enfants raconte ses voyages à vélo