arrow_back
This stage of the Burgundy Canal by Bike goes from the Montbardois to the Auxois area, through lands rich in history. The countryside is marked by wooded hills and plateaux where white cows graze. The greenway leads to Mont-Auxois, a hill dominated by a statue of Vercingétorix, leader of the Gaulish tribes beaten here by Caesar.
Route details
Greenway all the way along.
Alternative route via Fontenay Abbey: leave Montbard via the Dijon road (D 905), then take a right onto Rue Lamartine. Then, once you reach the railway track at Marmagne, the route is signposted to the UNESCO World Heritage Site abbey.
SNCF train services
Venarey-les-Laumes train station.
TER regional line Dijon > Venarey-les-Laumes > Migennes (c. 12 trains per day).
Note: this is the last train station before Dijon.
Don't miss
Montbard: an interesting town, good for a stop-over - Musée de l'Ancienne Orangerie – the Buffon Park – the Fine Arts Museum -  Les Granges-sous-Grignon: Musée de la Tuilerie tile museum, open May to October, tel 03 80 96 88 26 - Venarey-les-Laumes:  a small town located at the foot of Mont-Auxois – Nid à la Caille outdoor sports and recreation centre.
Nearby
Fontenay Abbey (a UNESCO World Heritage Site), open to visitors year round, tel 03 80 92 15 00.
Markets
Venarey-les-Laumes: Wednesday mornings
The best cycling holiday breaks
to make the most of this
They did it!
favorite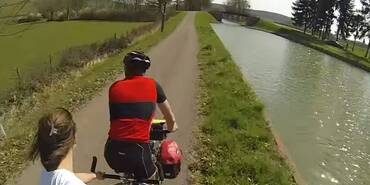 Deux intrépides passionnés du vélo se sont lancés dans un tour de Bourgogne en tandem !
favorite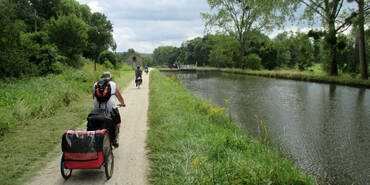 Un couple avec 2 enfants raconte ses voyages à vélo