arrow_back
The first part of this stage of the Burgundy Canal by Bike is dominated by the Mont-Auxois hill, where Caesar vanquished the Gauls at the Siege of Alésia of 52 BC. Tackle the slow ascent of the 'Valley of 40 Locks' to the impressive Voûte de Pouilly-en-Auxois, a canal tunnel under Pouilly-town. A memorable stage, with the striking old port at Pont-Royal to see too.
Route details
On an unbroken greenway. Note that there are very few shops between Venarey and Pouilly, so stock up on provisions before you set off.
SNCF train services
Venarey-les-Laumes train station.
TER regional line Dijon > Venarey-les-Laumes > Migennes (c. 12 trains per day).
Note: last train station before Dijon.
Don't miss
Alise-Sainte-Reine: MuséoParc Alésia, a contemporary museum focusing on the Siege of Alésia, one of the major turning-points in French history - statue of Vercingétorix, leader of the Gaulish tribes beaten by Caesar – Mont-Auxois hill - Marigny-le-Cahouët: for its ladder of locks - Pont-Royal: an historically imporant port – the Maison de l'Ingénieur du Canal, the canal engineer's house, is now a gîte - Flavigny-sur-Ozerain one of the most beautiful village in France
Did you like this?
You may also be interested in this...
They did it!
favorite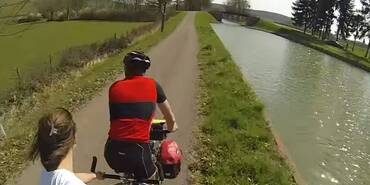 Deux intrépides passionnés du vélo se sont lancés dans un tour de Bourgogne en tandem !
favorite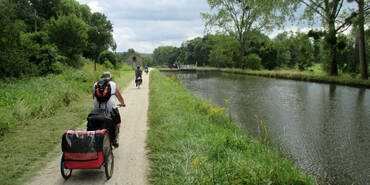 Un couple avec 2 enfants raconte ses voyages à vélo