arrow_back
19,18 km cycling route from Pont Royal to Pouilly-en-Auxois
After a hemmed-in part at Pont-Royal, this stage of the Burgundy Canal by Bike leads you up onto the so-called 'roof of Burgundy'. At 378m above sea-level you come to the highest point of the highest canal in France! Located at the foot of the Monts de Bourgogne (Burgundian Hills) Pouilly-en-Auxois is a green little town, a welcoming stop-over by the canal.
Route details
Unbroken greenway. Note that there aren't any shops between St-Thibault and Pouilly.
Alternative routes
There are signposted cycle trails offering links to the canal's reservoirs, Commarin and Châteauneuf.
SNCF train services
There are no train services along this stretch. The closest train stations are at: Venarey-les-Laumes or Dijon.

Don't miss
Saint-Thibault: its small village church with a choir-end fit for a cathedral - Éguilly: contemporary art exhibitions and tours, tel 03 80 90 72 90 - Pouilly-en-Auxois: a lovely little town, with a lively river port – a practical stop-over – the famed Voûte de Pouilly, an impressive, long canal tunnel  – the Cap Canal visitor centre about the canal – the boat La Billebaude, on which you can take a cruise.

Markets
Pouilly-en-Auxois: Friday afternoons
Accommodation on the stage
The best cycling holiday breaks
to make the most of this
Did you like this?
You may also be interested in this...
They did it!
favorite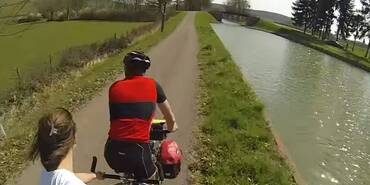 Deux intrépides passionnés du vélo se sont lancés dans un tour de Bourgogne en tandem !
favorite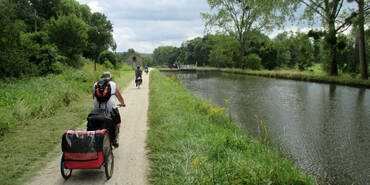 Un couple avec 2 enfants raconte ses voyages à vélo