arrow_back
25,23 km cycling route from Pouilly-en-Auxois to Bussière-sur-Ouche
This is surely one of the most beautiful stages on the Burgundy Canal by Bike. The route takes you down the Ouche Valley, beside a series of locks, to the little port of Vandenesse. Then head through wooded straits dotted with historic curiosities to uncover, hidden away in corners of the deep little valleys round and about. A memorable stage.
Route details
Leave Pouilly via the plane-tree-lined alley that passes over the canal tunnel and follow the signs up to Créancey. An unbroken greenway takes you along to the port at Dijon.
An unofficial detour takes you up to glorious village of Châteauneuf-en-Auxois, with its striking castle. The detour comes highly recommended, despite the long slope to tackle. There are also signposted cycle trails linking the canal's reservoir lakes and Châteauneuf.
SNCF train services
There are no train services on this stage. The nearest train stations are: Venarey-les-Laumes, Velars or Dijon.

Don't miss
Pouilly-en-Auxois : a lovely little town, with a lively river port – a practical stop-over – the famed Voûte de Pouilly, an impressive, long canal tunnel  – the Cap Canal visitor centre about the canal – the boat La Billebaude, on which you can take a cruise - Vandenesses-en-Auxois: with a remarkable river port where canal barges can turn around – 3 km away, the lovely Panthier Lake (a reservoir for the canal) – the series of locks on the route, plus the lock-keepers' houses - Pont-d'Ouche: a strategic site - La Bussière-sur-Ouche: with remarkable village and church – its historic abbey founded in the 12th century (now a luxury hotel and restaurant).
Nearby
Commarin: château, with guided tours April to November, tel 03 80 49 23 67 – Châteauneuf: a village in the association Les Plus Beaux Villages de France – visit the château by yourself or on a guided tour, tel 03 80 49 21 89.

Markets
Pouilly-en-Auxois: Friday afternoons
Accommodation on the stage
The best cycling holiday breaks
to make the most of this
They did it!
favorite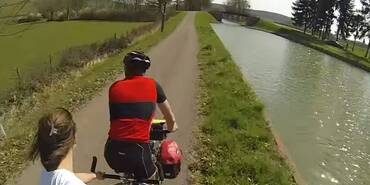 Deux intrépides passionnés du vélo se sont lancés dans un tour de Bourgogne en tandem !
favorite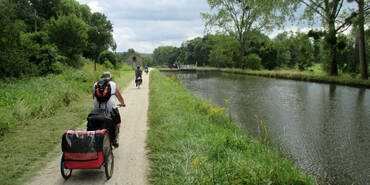 Un couple avec 2 enfants raconte ses voyages à vélo