arrow_back
Old railway, Nature & small heritage
The Mediterraneen Cycle Route joins up with Le Luberon à Vélo, in this area where lavender prospers. Nestling at the foot of the Petit Luberon Range, Les Taillades mill and its waterwheel will surprise you. To join Le Calavon Greenway, go via Robion, a marvellously typical Provençal village, with its central square shaded by plane trees, its old-stone architecture and its fountain. Once on the lovely greenway, take in the Luberon, from the Lavender Museum at Coustellet to the picnic stop set up at the former station at Goult. Pause at the end of your cycling day to contemplate the venerable old Pont Julien bridge, before visiting the pedestrian streets of Apt. This stage is good for families once you've joined Le Calavon Greenway.
Elevation of the stage
Waytypes of the stage
By road: 7,22 km
Cycle path: 30,01 km
Surface of the stage
Lisse: 26,93 km
Inconnu: 10,30 km
Accidenté: 0,30 km
The best cycling holiday breaks
to make the most of this
They did it!
favorite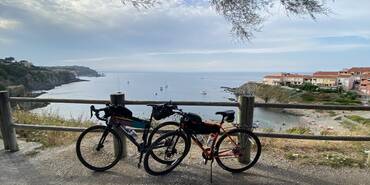 Cécile et Javier ont parcouru La Méditerranée à vélo d'Argelès-sur-Mer à Nice en 1331 km et 24 jours