arrow_back
Mediterranean Cycle Route
The aim of the Méditerranée à Vélo cycle route is to link Spain to Italy and the Pyrenees to the Alps, via southern France. This is the French link in the greater EuroVelo 8 route. Cyclists first tackle a section of the Catalan Pyrenean route, Pirinexus, to join the southern end of the the Mediterranean Cycle Route. This route then offers a wonderful new way of appreciating the French arc of the Med at your own rhythm, from Le Perthus to Menton. Enjoy the mix of sea, mountains, lakes, marshes and canals, plus sublime heritage, much dating back to the Roman Empire, a shared heritage around the Mediterranean. Along the way, you can also follow the most southerly section of the Canal du Midi as well as one of the final sections of ViaRhôna. All told, this route presents a unique way to make the most of southern France… by bike.
Waytypes of the cycle route
Cycle path: 357,57 km
By road: 407,44 km
Inconnu: 10,74 km
Surface of the cycle route
Lisse: 506,12 km
Rugueux: 71,89 km
Accidenté: 2,40 km
Inconnu: 169,89 km
Come on the itinerary
Coming by train
Intercity lines Bordeaux / Marseille; Perpignan / Marseille ; Marseille / Nice ; Clermont-Ferrand / Nîmes. TER Provence-Alpes Côte d'Azur, Occitanie and Auvergne-Rhône-Alpes. TGV lines Paris/Marseilles; Strasbourg / Avignon; Barcelona / Perpignan; Paris / Lyon / Nîmes / Montpellier.
Coming by bus
From France and Europe, many operators offer connections to the waypoints along the route. On site, public transport networks also allow you to travel to your place of residence or from one stopover to another.
Did you like this?
You may also be interested in this...
They did it!
favorite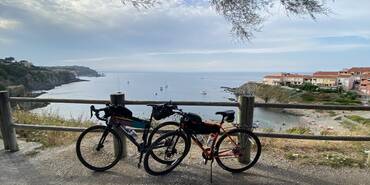 Cécile et Javier ont parcouru La Méditerranée à vélo d'Argelès-sur-Mer à Nice en 1331 km et 24 jours