Canals & intimate rivers, Nature & small heritage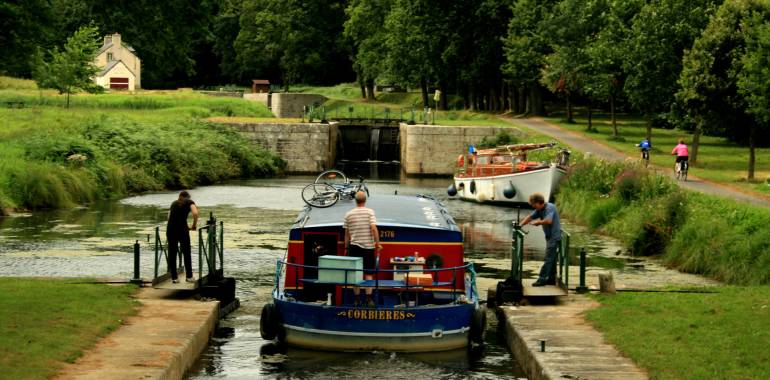 At Saint-Caradec, at the crossroads of Voie 6, the green Hilvern channel imposes its curves through the Breton countryside passing through Hémonstoir and Saint-Gonnery. The forest of Branguily and the Hilvern lock will mark the end of this picturesque and winding cycle route. All that remains for you to do is let yourself be guided by the canal from Nantes to Brest, punctuated by the numerous locks that can be found as far as Pontivy.
Surface of the stage
Rugueux: 41,21 km
Accidenté: 5,22 km
The route
Greenway in compacted sand on the Hilvern channel. Asphalt towpath on the canal from Nantes to Brest.
Picnic tables and benches are regularly installed.
In Saint Gonnery, many services: accommodation, roadside restaurant (for lunch), grocery, post office, bread, newspapers, public toilets and rest areas around a beautiful pond.
Once on the canal from Nantes to Brest, beware of dangerous crossings as far as Pontivy: RD 768, RD 125 and RD 32.
Transport
TER Rennes - Pontivy bus line operated by Keolis Armor
Did you like this?
You may also be interested in this...