arrow_back
Saint-Brieuc to Lorient - Cycle Route 8 in Brittany
Canals & intimate rivers, Nature & small heritage
Route 8 in Brittany, crosses Brittany north to south, starting from the Bay of Saint-Brieuc. It will, in time, go as far south as the port of Lorient. The route follows peaceful country roads and often runs beside waterways. So it joins up with the Rigole d'Hilvern Channel, with a greenway going up to the Nantes to Brest canal. From Pontivy to the bay of Lorient, Route 8 then takes the towpath of the Blavet, wandering between the wooded hills of a green valley.
Waytypes of the cycle route
Cycle path: 134,86 km
By road: 55,97 km
Surface of the cycle route
Lisse: 114,29 km
Rugueux: 71,32 km
Accidenté: 5,22 km
Signposting and state of the itinerary
Cycle Route 8 in Brittany, from Saint-Brieuc to Lorient, is entirely signposted.
An itinerary mainly developed on designated lanes for non motorized vehicles (greenways along the "Rigole d'Hilvern" and the Blavet)
Services and accomodations "Accueil Vélo" ("Cyclists Welcome") on the Saint-Brieuc to Lorient Cycle Route number 8 in Brittany 
Nearly 20 accomodations (campings, hotels, lodges, guest houses) "Accueil Vélo" ("Cyclists Welcome") are located at less than 5km away from the itinerary and they guarantee quality services for cyclists such as a closed garage for example. We strongly advise to book your accomodations in advance (including campings), especially in touristic areas.
Trains and public transports alongside the route
The itinerary is poorly deserved with trains. The 3 train stations on the route are :
St-Brieuc train station
Yffiniac train station
Lorient train station
Did you like this?
You may also be interested in this...
They did it!
favorite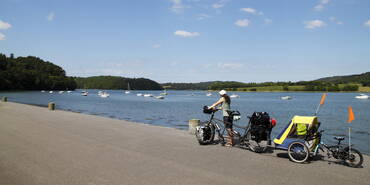 Récit d'un voyage en Bretagne à vélo par les canaux et le long du littoral.