arrow_back
The Vallée du Loir by bike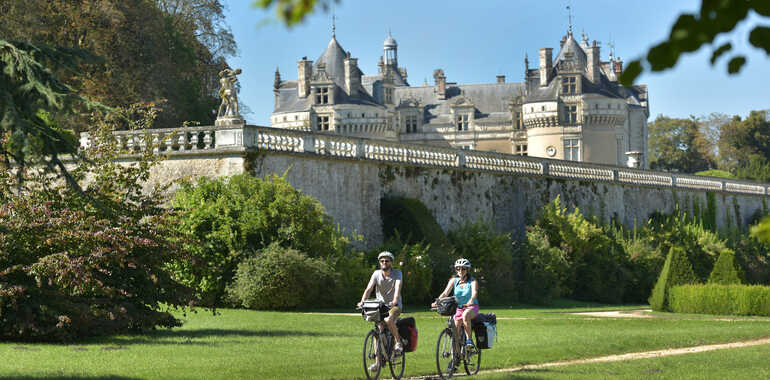 This cycle route commences where the Loir (without an "e") springs up, between the Beauce and Perche areas. The Vallée du Loir à Vélo is the first French cycle route to follow a river from its source to its confluence – it joins the Loire à Vélo cycle route north of the city of Angers. The Loir Valley has been designated a Pays d'Art et d'Histoire thanks to its rich heritage.

The way begins in gently undulating lands that present a mosaic of different landscapes typical of the larger region, with cereal crops, vineyards and orchards. The route is dotted with charming villages built beside the Loir. Some boast troglodytic homes dug into the limestone riverbanks, a fascinating curiosity.

Entering the county of Sarthe, the route leads past lakes and pastures to Le Lude, marked by its grand Renaissance château with formal French gardens. Then a greenway leads to the historic town of La Flèche, with a zoological park on its outskirts. Continue on to Angers.
Signposting and state of the itinerary
The Vallée du Loir by bike is a cycling itinerary linked to two other routes : V41 and V47.
The largest part of the itinerary (90%) is developped on shared lanes (with motorized vehicles) with few traffic. 
Services and accomodations "Accueil Vélo" ("Cyclists Welcome") on The Vallée du Loir by bike
Nearly 20 accomodations (campings, hotels, lodges, guest houses) "Accueil Vélo" ("Cyclists Welcome") are located at less than 5km away from the itinerary and they guarantee quality services for cyclists such as a closed garage for example. We strongly advise to book your accomodations in advance (including campings), especially in touristic areas.
Trains and public transports alongside The Vallée du Loir by bike
You can reach the itinerary by train easily from Paris and several trains are also available between various parts of the route.
Ligne TGV Paris - Tours : arrêt à Vendôme
Ligne TGV Paris / Le Mans / Nantes : arrêt à Angers
Ligne Intercité Paris / Chartres / Le Mans : nombreux arrêts entre Paris et Chartres
Ligne Intercité Paris / Châteaudun / Vendôme / Tours : nombreux arrêts entre Châteaudun et Vendôme
Ligne TER Paris / Chartres / Le Mans : nombreux arrêts entre Paris et Chartres
Ligne TER Paris / Chartres / Droué : arrêt à Illiers-Combray
Ligne TER Le Mans / Tours : arrêts à Château du Loir et Vaas
Autobus SNCF : Le Mans / La Flèche / Saumur
Long-time parkings on the itinerary