arrow_back
La Seine à Vélo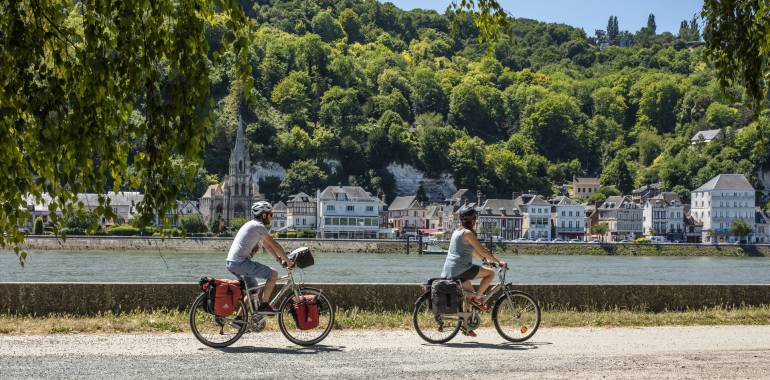 The Seine à Vélo cycle route consists of over 420km of cycle paths, enabling you to ride easily from Paris, via the Seine, to Le Havre or Deauville. This new véloroute, opened in 2020, leads you as far as the sea at the Seine's estuary, offering a rich mix of cultural, historical and industrial heritage along the way. Discovering the Seine Valley on two wheels, take in many gems that will cause you to pause. Reaching Jumièges, you need to choose between the two ends of the route, located either side of the Seine Estuary, at Le Havre or Deauville. The route also offers a way to reach the département (county) of Calvados. Count at least one week to complete the 420km-long Seine à Vélo route.
The Seine à Vélo: 420km of cycling between Paris and the sea
The route is signposted La Seine à Vélo
The signposting displays the cycle route's official logo and its official number – V33. Please note, at time of writing, there are sections where signposting is not yet in place:
Central or inner Paris (Paris intra-muros): no signposting in place at time of writing, so do download the route's tracks for this part before heading off;
Plaine Commune, an area including nine towns just north of central Paris, in the county (département) of Seine-Saint-Denis. Signposting should be in place by end October 2020, although the route, going along beside canals heading north out of central Paris, is pretty self-evident;
In the Hauts-de-Seine county (département) immediately west of central Paris: the signposting is being completed at time of writing.
Crossing the Seine by river ferries (bacs) and bridges
Between Paris and Rouen, the cycle route often switches bank, meaning you have to cross via bridges or footbridges that are, on the whole, geared towards cyclists (see the stage details)
West of Rouen up to the Seine Estuary, cargo ships ply the river, meaning there are few bridges spanning the Seine along this stretch. However, several free, small ferries known as bacs link the two banks. Three great bridges do span the Seine between Rouen and Le Havre, but of these, only the Pont de Brotonne enables cyclists to cross the Seine without too much difficulty; in fact, the Pont de Tancarville is forbidden to cyclists, while the Pont de Normandie can be tackled by bike, but the narrowness of its cycle lane and the frequent strong winds here make this crossing both daunting and difficult, so only try it if very confident.
Do consider carefully, before reaching the fork in the cycle route at Jumièges, on which side of the Seine Estuary you wish to end your trip. After Jumièges, the north bank cycle route leads to Le Havre, the south bank one to Deauville.
Getting around by train along the cycle route
We recommend the following lines (on which bikes are accepted):
Paris Saint-Lazare - Rouen - Le Havre: free spaces are available for bikes; count 2hrs 15mins for the entire train journey from one end of this line to the other
Paris Saint-Lazare - Evreux - Lisieux - Deauville: free spaces are available for bikes; count 2hrs 20mins for the entire journey from one end of this line to the other, but note that at certain times, you may need to change train at Lisieux 
Links with other cycle routes from La Seine à Vélo