Seaside, Nature & small heritage
Following the example of the much-loved hiking path around the Breton coast, the Chemin des Douaniers, Brittany is now developing a coastal cycle path. Voie 5 (Route 5) will stick more or less closely to the region's shores, bays and indented coastline. You can already try out some memorable stretches along: the Côte du Léon (from Roscoff port); the Rade de Brest and Côte de la Mer d'Iroise (northwest Brittany); the Pointe du Raz (southwest Brittany); and the invigorating peninsulas of Quiberon, Rhuys and Guérande (in southern Brittany).
Waytypes of the cycle route
By road: 166,06 km
Cycle path: 78,72 km
Provisional itinerary: 14,77 km
Surface of the cycle route
Lisse: 190,54 km
Rugueux: 40,77 km
Inconnu: 5,66 km
Accidenté: 7,81 km
Signposting and state of the itinerary "Voie 5 Bretagne" (The Coastal cycle path - Route 5 in Brittany)
The coastal cycle path - Route 5 in Brittany is still a project in progress, so every parts are not finished yet.
When finished, "The coast on a bicycle" itinerary will allow you to follow the Brittany coast entirely.
What is already done on the route alternates between designated lanes (for bicycles) and shared routes (with motorized vehicles), with a majority of it on small roads.
Services et accomodations "Accueil Vélo" ("Cyclists Welcome") on Coastal cycle path - Route 5
Nearly 30 accomodations (campings, hotels, lodges, guest houses) "Accueil Vélo" ("Cyclists Welcome") are located at less than 5km away from the itinerary and they guarantee quality services for cyclists such as a closed garage for example. We strongly advise to book your accomodations in advance (including campings), especially in touristic areas.
Trains and public transports alongside "Voie 5 Bretagne" (Coastal cycle path - Route 5 in Brittany)
The itinerary doesnt have much trains following its routes. In some areas, some buses can be booked to transport both persons and bicycles.
All the details and the schedules can be found on Breizhgo website.
Bus + bicycle 20B Landéda - Lannilis (Brest)
Bus + bicycle 21 Lesneven - Brest
Bus + bicycle 52 Audierne - Douarnenez
Bus + bicycle 53B (Pointe du Raz) Audierne - Quimper
Bus + bicycle 56 Pont-l'Abbé - Quimper
Bus + bicycle 56A Saint-Guénolé - Le Guilvinec - Pont l'Abbé (Quimper)
The trains stations on the itinerary :
Trains station in Vannes
Trains station in Brest
Trains station in Roscoff
The best cycling holiday breaks
to make the most of this
Did you like this?
You may also be interested in this...
They did it!
favorite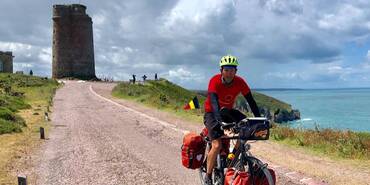 Grande boucle vélo de 1100 km en Bretagne : récit de Jean-Marc