arrow_back
La Vélomaritime / EuroVelo 4
La Vélomaritime - EuroVelo 4 offers offers a unique maritime experience in the discovery of rare pearls over more than 1,400 kilometres from the English Channel to the North Sea. This route also builds in part of the existing European cycle route EuroVelo 4 "the Central European Cycle Route", links Roscoff in France to Kiev in Ukraine over a distance of 4,000 km. From Roscoff in Brittany to Dunkirk in the Hauts-de-France region, the cycle route is complete and passes through mythical sites such as the Côte de Granit Rose, Mont-Saint-Michel and its bay, the Landing Beaches, the cliffs of Etretat, the Baie de Somme and the Opal Coast. With a large number of shared routes, it is an ideal cycling itinerary for cyclists looking for escape, challenge, cultural and gastronomic discovery.
Waytypes of the cycle route
Cycle path: 548,80 km
By road: 950,48 km
Inconnu: 0,88 km
Surface of the cycle route
Lisse: 1 168,27 km
Rugueux: 95,54 km
Accidenté: 84,76 km
Inconnu: 138,34 km
La Vélomaritime - EuroVelo 4 : along the English Channel by bike
Signposting and state of the itinerary
Since June 2021, La Vélomaritime cycle route is 100% continuous. Some sections are provisional while waiting for more qualitative developments. You will find La Vélomaritime signs along most of the route (La Vélomaritime logo and EuroVelo 4 identifier). Some sections are marked on the ground. The route is mainly laid out on shared roads.
Services and accomodations "Accueil Vélo" ("Cyclists Welcome") on La Vélomaritime - EuroVelo 4
Accomodations (campings, hotels, lodges, guest houses) "Accueil Vélo" ("Cyclists Welcome") are located at less than 5km away from the itinerary and they guarantee quality services for cyclists such as a closed garage for example. We strongly advise to book your accomodations in advance (including campings), especially in touristic areas.
Trains and public transports alongside La Vélomaritime - EuroVelo 4
Train stations : 
The main train stations along La Vélomaritime cycle route :
Bretagne : Morlaix, Lannion, Saint-Brieuc, Saint-Malo
Normandie : Pontorson - Mont-Saint-Michel, Saint-Lô, Cherbourg, Bayeux, Caen, Trouville-Deauville, Le Havre, Fécamp, Dieppe, Le Tréport Mers-Les-Bains
Hauts-de-France : Etaples Le Touquet, Boulogne Ville, Calais Ville, Dunkerque
Sea crossing :
The Channel crossing can be made from 5 English ports: Plymouth, Poole, Porstmouth, Newhaven and Dover to 8 ports along the route in France: Roscoff, Saint-Malo, Cherbourg, Ouistreham, Le Havre, Dieppe, Calais and Dunkirk.
Long time parkings on the itinerary
The best cycling holiday breaks
to make the most of this
They did it!
favorite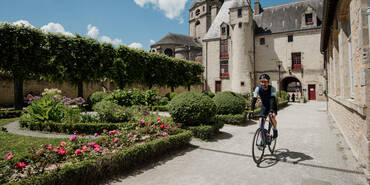 L'aventure à vélo proche de chez soi !