arrow_back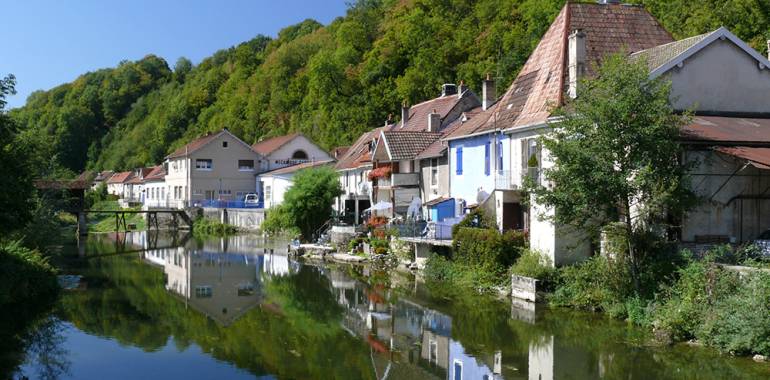 32,97 km cycling route from L'Isle-sur-le-Doubs to Baume-les-Dames
This is a splendid EuroVelo 6 stage in the Franche-Comté, the cycle path closely following the meanders in the Doubs River before a panoramic arrival at Baume-les-Dames. The valley is full of charm and enlivened by pleasure boats. It all makes for one of the most spectacular stretches of EuroVelo 6, but it is accessible to all.
Waytypes of the stage
Cycle path: 24,38 km
By road: 8,59 km
Surface of the stage
Lisse: 20,49 km
Rugueux: 8,36 km
Accidenté: 4,12 km
Route
Along a beautiful cycle path by the Doubs River, but with portions on roads, on leaving L'Isle-sur-le-Doubs and between Clerval and Roche-lès-Clerval (with a slope). A new footbridge crosses the Doubs at Baume-les-Dames.
Train station - Sncf 
L'Isle-sur-le-Doubs, Clerval and Baume-les-Dames stations
TER (local services) Belfort > Montbéliard > Besançon (environ 15 trains / jour)
Don't miss
Clerval: a pretty historic village; the Musée de la Mémoire et de la Paix, a war museum
Roche-lès-Clerval: an historic village perched above the Doubs
Baume-les-Dames: a lovely historic town with a remarkably rich heritage; also a river port offering cruises on the Doubs ; rock-climbing trail too.
Markets
Clerval : Tuesday morning
Baume-les-Dames : 1st Thursday of the month
Accommodation on the stage