arrow_back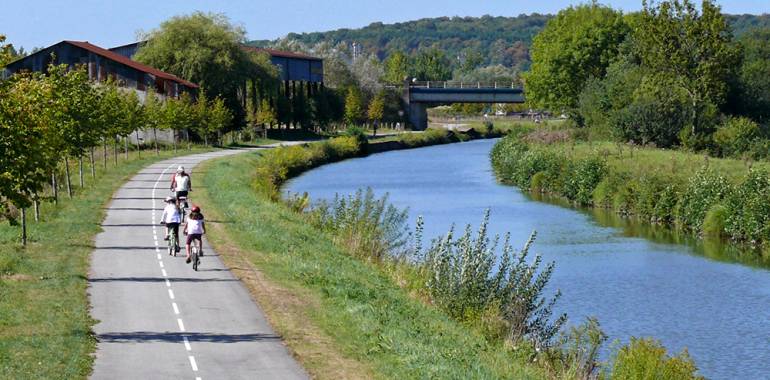 14,72 km cycling route from Decize to Fleury-sur-Loire
This stage of "The Loire in Burgundy" on the EuroVelo 6 itinerary starts at the port of La Jonction in Decize and links Fleury-sur-Loire by taking the towpath of the Canal Latéral à la Loire. The route is punctuated by rural landscapes and authentic villages. On your way, the small canal bridge of the Acolin lock located before the village of Avril-sur-Loire and the Fleury-sur-Loire nautical stopover offer beautiful stops for lunch or refreshments (from May to the end of September).
Waytypes of the stage
Cycle path: 11,64 km
By road: 3,07 km
Surface of the stage
Lisse: 3,07 km
Rugueux: 11,64 km
Route
The towpath of the Canal Latéral à la Loire, which has been fully equipped for cyclists and pedestrians, connects Decize to Fleury-sur-Loire and can be continued to Nevers (20.02 km). From Nevers, possible extension to the canal bridge of Guétin/Cuffy (12 km) and panorama of the Bec d'Allier.
Railway station - SNCF
Decize station
TER (local services) Bourgogne Dijon > Decize > Nevers.
Don't miss
Decize: a pretty mariners' town centred around a rocky island at the junction of the Loire and the Canal du Nivernais. Historic quarters, St Aré Church and covered market. River activities include trips on a traditional gabare Loire boat.
Tourist Information Centre
Decize : +33(0)3 86 25 27 23
Accommodation on the stage