arrow_back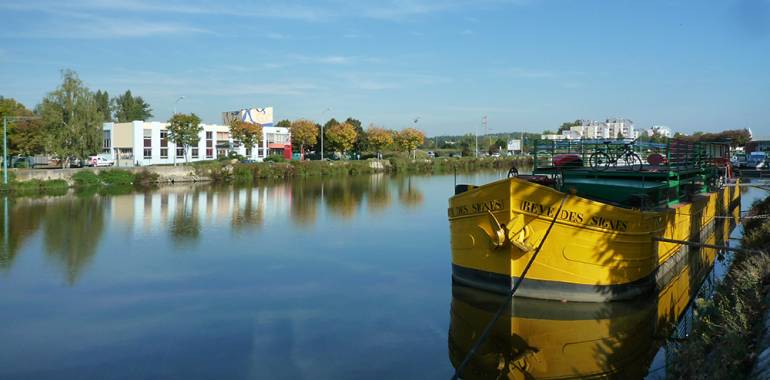 This EuroVelo 6 stage is punctuated by many sites bearing witness to Southern Burgundy's rich industrial past. The historic mining town of Montceau-les-Mines is a stop that proves both surprising and enjoyable. There isn't a greenway set up along this stretch for the time being, but you take a calm small road beside the canal.
Waytypes of the stage
Cycle path: 2,19 km
By road: 12,05 km
Surface of the stage
Lisse: 2,19 km
Inconnu: 12,05 km
Route
At present, there isn't any greenway between Montchanin and Montceau-les-Mines, but in contrast to the St-Léger-sur-Dheune > Montchanin stage, along this stage, the D 974 road is not busy at all and is really easy for cyclists.
Train station SNCF
Montchanin station
TER (local services) Dijon > Chagny > Montchanin > Paray-le-Monial > Digoin > Moulin-sur-Allier
TER (local services) Dijon > Montchanin > Decize > Nevers
TGV (High speed train) Paris > Montchanin with spaces dedicated for bikes
Blanzy and Montceau-les-Mines stations
TER (local services) Dijon > Montchanin > Monceaux-les-Mines > Paray-le-Monial > Moulin-sur-Allier
Don't miss
Blanzy: mining museum
Montceau-les-Mines: an historic mining town with lively port and a museum on schooling, plus the monumental Chavannes washhouse
Markets
Montceau-les-Mines : Tuesday and Saturday morning
Tourist Information Centre
Montceau-les-Mines : +33 (0)3 85 69 00 00
Accommodation on the stage