arrow_back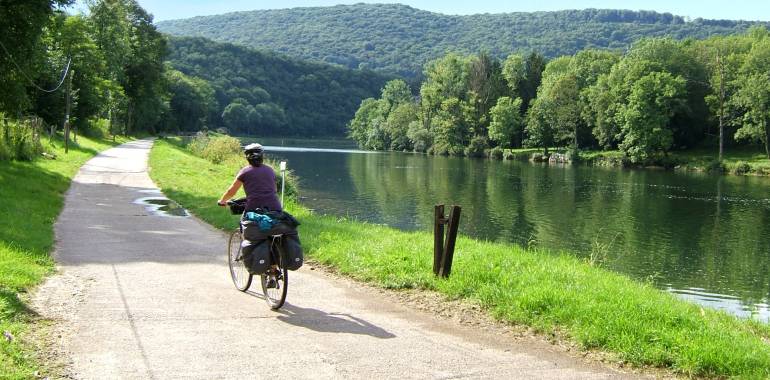 This EuroVelo 6 stage through Burgundy takes you along an unfinished part of the region's Voie Bleue greenway that will eventually continue along the Saône to historic Chalon. At Verdun-sur-le-Doubs, the Saône is joined by the River Doubs, forming a remarkable site. This stage is mainly along roads, but it doesn't present any difficulties.
Waytypes of the stage
Cycle path: 4,77 km
By road: 13,43 km
Surface of the stage
Lisse: 0,62 km
Inconnu: 17,58 km
Route
The route is provisional and not signposted as yet. You can cycle from Seurre to Chazelle along a towpath, although the track isn't good; alternatively, use the D 35d road. Then follow quiet roads across the plain to Verdun, but take care entering this town.
Train station - Sncf 
Seurre station
TER (local services) Dijon > Seurre > Bourg-en-Bresse
Don't miss
Seurre: with a lively river port, the Romanesque church of St Martin, the historic Maison Bossuet and the Ecomusée de la Saône (focusing on the river)
Verdun-sur-le-Doubs: a pleasant little historic town, with lively river port, the historic St-Jean Bridge and its Ecomusée du Blé et du Pain (dedicated to wheat and bread)
Markets
Seurre : Saturday morning
Verdun-sur-le-Doubs : Thursday morning
Tourist Information centre
Seurre : +33 (0)3 80 21 09 11
Verdun-sur-le-Doubs : +33(0)3 80 21 09 11
Accommodation on the stage