arrow_back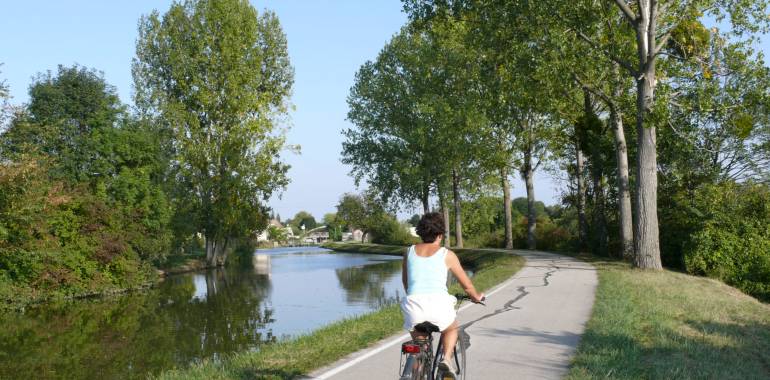 24,95 km cycling route from Verdun-sur-le-Doubs to Chalon-sur-Saône
This EuroVelo 6 stage takes you along a portion of Burgundy's Voie Bleue greenway beside the Saône that hasn't been completed yet. Even if the cycle route between Verdun-sur-le-Doubs and Chalon is in part provisional, offering a mix of stretches of greenway and portions on relatively busy roads, it's still enjoyable.
Waytypes of the stage
Cycle path: 23,59 km
By road: 1,40 km
Surface of the stage
Lisse: 4,13 km
Rugueux: 20,86 km
Route
Greenway from Verdun-sur-le-Doubs to Bragny. Take care on the complicated stretch around Gergy (following a disused railway line, then the banks of the Saône). Then there's a provisional linking route along relatively busy roads to Chalon (D 5 road). Arriving at Chalon, take Avenue Kennedy, with its marked-out cycle lane, for the historic centre.
Train station - Sncf 
Chalon station
TER (local services) Dijon > Beaune > Chalon > Macon
TER (local services) Chalon > Montchanin > Nevers
TGV (high speed trains) Paris > Chalon with dedicated spaces, with booking
Don't miss
Chalon-sur-Saône: beautiful old buildings along the Saône quays; the quarter around St Vincent Cathedral; Ile St-Laurent (an island); several museums, including that on photography (invented here!).
Markets
Verdun-sur-le-Doubs : Thursday morning
Chalon-sur-Saône : Friday and Sunday morning
Tourist Information centre
Verdun-sur-le-Doubs : +33 (0)3 80 21 09 11
Chalon-sur-Saône : +33 (0)3 85 48 37 97
Accommodation on the stage