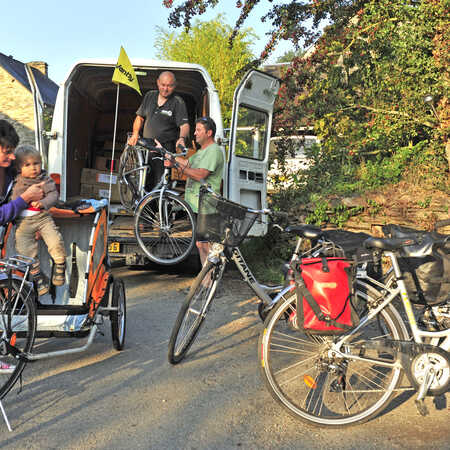 Transfert des bagages et vélos en France © J. Damase - CRT Bretagne
south
Bicycle luggage transfer services
To be light on your bike and in your mind during your adventure !
Various luggage transport services allow you to transfer your bags at each stage of your journey. 
It is always more enjoyable to pedal lightly to pull less on your calves and thighs. From one accommodation to another, find your luggage without having to transport it during your day by bike. Your luggage will follow you throughout your stay and will be delivered at the end of the afternoon to your new resting place, according to pre-determined conditions.
These specialized services are multiplying and thus allow cyclists to travel more freely.
Some taxi drivers, delivery companies, or "Accueil Vélo" accommodations may also offer a luggage transportation service.
Luggages transport services around cycling routes :