La Filaventure, boutique et musée sensoriel de la Manufacture Brun de Vian-Tiran
Avenue de la Libération 84800 L'Isle-sur-la-Sorgue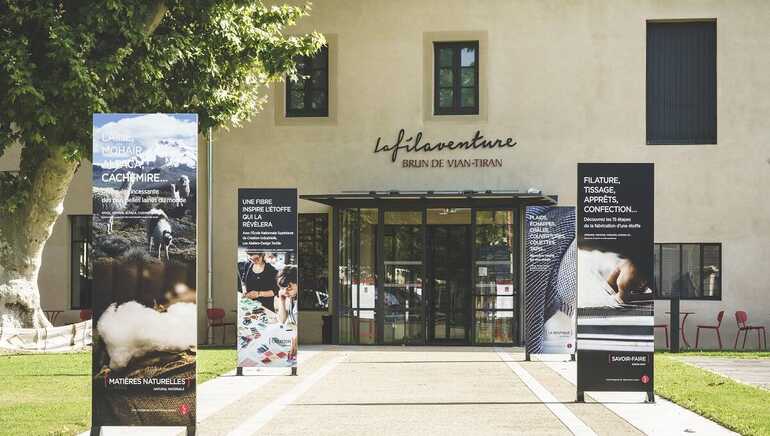 Avenue de la Libération 84800 L'Isle-sur-la-Sorgue
Brun de Vian-Tiran has been in business for 210 years, and today offers you the opportunity to share its passion for noble fibres at La Filaventure. La Filaventure is a sensorial museum, on a constant quest for the most beautiful textiles on five continents. La Filaventure is the fruit of two centuries of innovation and d'excellence.
SENSORY MUSEUM
Here you are guided by the Filambule and Edgar the sheep for the younger crowd. Here you enter the daily existence of Pierre and Jean-Louis Brun, 7th and 8th generations of the Brun de Vian-Tiran family. Discover all the different animals whose wool is used on five continents, these animals give rise to creations inspired by nature. Touch, listen to the sounds in a busy workshop, feel and touch the textiles, see the transformation and listen to words from artisans who perform 15 steps in their work here in Isle-sur-la-Sorgue, Be part of the transformation of wool, from fibrer throught to fabric.
The SHOP
Our fabrics are so soft, a soft that only nature can provide. For our fabrics are made from the very best, friendy processing techniques,
Come see our shawls, scarves, throws, coverings, comforters, mattress pads, Avignon rugs ... Whether you are simply looking for a cozy wrap, the style that suits you, or to add a bit of soul to your home, the fabrics from Brun de Vian-Tiran have been vital and extremely soft since 1808.
Contact par
mail
* Required fields
Report a problem with this establishment
* Required fields