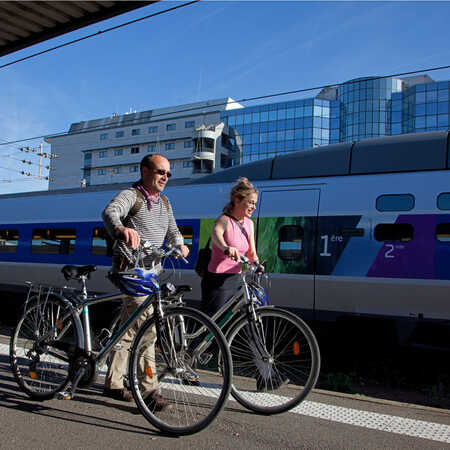 Gare de Tours - Train et vélo © CRT Centre-Val de Loire - P. Forget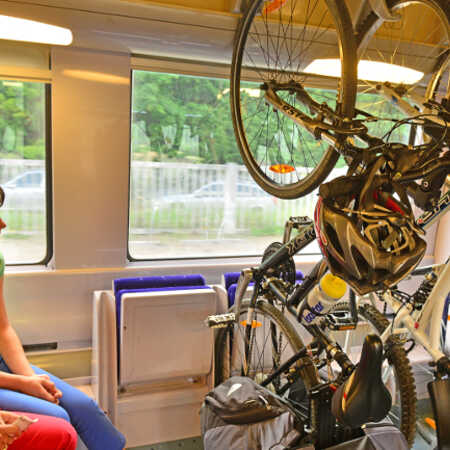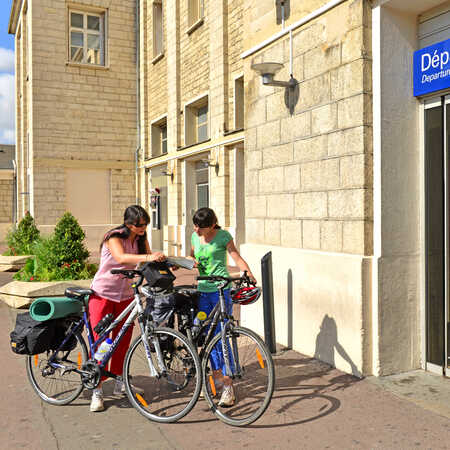 Voyager en train avec son vélo
south
Getting to and around France by train
There are many possibilities to travel in France by train : here is an overview of them to see clearlier !
Getting to France cycle routes by train
Map of trains accepting bicycles transport in France (in French)
Only the main "long-distance" lines are listed - not all TER lines are shown
Click on the lines to access the information (in French).
Use the legend to show/hide stations
Bicycle transport on European trains
Getting around France by train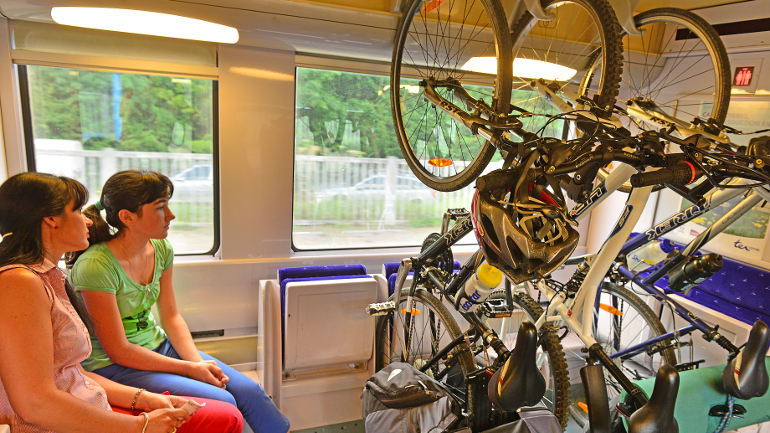 It's not always that simple to transport a bike by train in France. Apart from the facilities provided along the Loire à Vélo route, elsewhere provision is variable and is generally not suited to dealing with groups.
High-speed trains (TGV):
The flagship fleet of the SNCF.
The sleek, speedy TGV trains can whizz you between France's major cities in superfast time. They're comfy and stylish too.
Transporting a bike on a TGV is allowed, but not on all lines and you have to pay a fee for the bike (10€), which must be put in a bag.  See our map above (TGV accepting bikes in red).
Intercités :
Intercités trains cover fair distances between big cities.
On certain services, you have to reserve a seat in advance.
You can transport a bike on Intercité trains, you have to reserve a space for your bike (10€); this must be done at the same time as you buy your ticket. See our map above (Intercités accepting bikes in blue)
TER (regional services):
TER is the French regional service.
No seat reservations are required.
These trains are perfect for budget travellers.
There are 21 regional networks covering the whole of France.
Most TER trains have dedicated coaches with spaces for bikes that are free of charge. These are allocated on a first-come, first-served basis.
Overnight/sleeper trains:
These trains cover long distances.
On some of them, you have to reserve a seat in advance.
You can transport your bike on certain lines and certain trains have dedicated spaces for bikes. See our map above (sleeper trains in yellow)
You have to book for bike transport in advance; this must be done at the same time as you buy your ticket.
Book your bicycle place in SNCF trains
Reservations for bikes are not possible on TER trains. If you wish to travel with a non folded bicycle on a TGV or Intercity train, you must book a bicycle ticket.
Show train stations around cycling routes
From our interactive maps, you can display the train stations around the cycle routes by selecting the dedicated icon.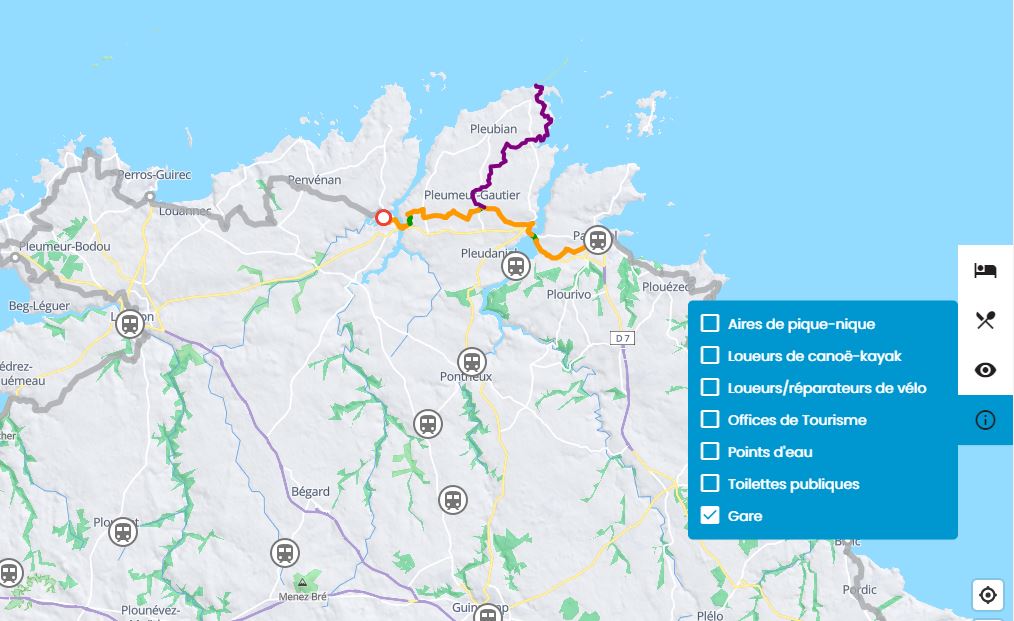 You can find further detailed informations :
On this website, via the tab marked 'details' or 'further details', describing stages