arrow_back
EuroVelo 6 - Cycle Route of the rivers
Between Basel-Mulhouse on France's eastern border and Nevers on the Loire, follow one of the country's most interesting unbroken cycle routes, part of the EuroVelo 6 route linking the Black Sea to the Atlantic. Cyclists love crossing Southern Alsace via the peaceful Canal du Rhône au Rhin. An unforgettable section takes you along the Doubs Valley and through the Jura Region's hills. Lastly, you cross Southern Burgundy, passing by famous vineyards, medieval villages and historic industrial sites beside the Canal du Centre. Make the most of the many railway services allowing you to carry bikes to different sections of the route.
Waytypes of the cycle route
Cycle path: 652,39 km
By road: 596,53 km
Inconnu: 0,01 km
Surface of the cycle route
Lisse: 904,30 km
Rugueux: 117,05 km
Accidenté: 18,01 km
Inconnu: 208,61 km
Signposting and state of the itinerary
The EuroVelo 6 is marked at 97% with road signs on both sides from East to West. The Eurovelo 6 logo is indicated on every signs.
Half ot the itinerary (49%) is rideable on designated lanes for non-motorized passengers.
Services et accomodations "Accueil Vélo" ("Cyclists Welcome") on The Vélodyssée
Nearly 450 accomodations (campings, hotels, lodges, guest houses) "Accueil Vélo" ("Cyclists Welcome") are located at less than 5km away from the itinerary and they guarantee quality services for cyclists such as a closed garage for example. We strongly advise to book your accomodations in advance (including campings), especially in touristic areas.
Trains and public transports alongside The Vélodyssée
The itinerary is well served with trains, although you need to be careful during peak periods when bicycle transports can become complicated in TER. 
Parkings longue durée sur l'itinéraire
The best cycling holiday breaks
to make the most of this
Did you like this?
You may also be interested in this...
They did it!
favorite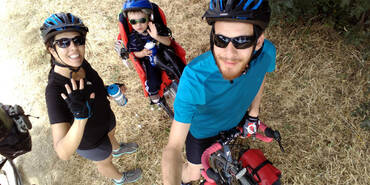 Laura & Vincent sont partis sur l'EuroVelo 6. Après 3850 km parcourus, ils vous livrent leur témoignage.