arrow_back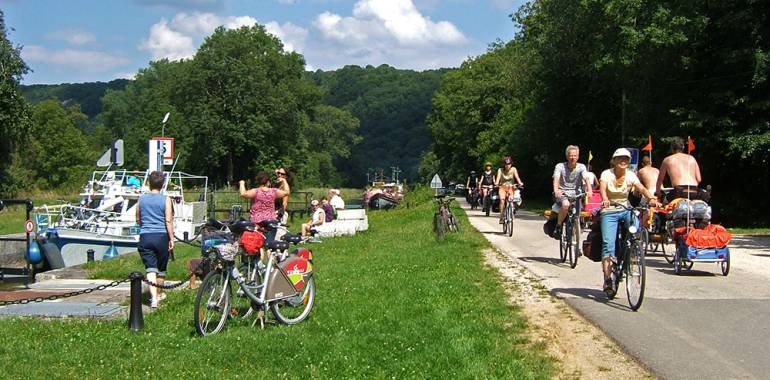 29,35 km cycling route from Besançon to St-Vit
This EuroVelo 6 stage through Franche-Comté goes from regional capital Besançon to St-Vit along an idyllic greenway sticking to the meandering Doubs, below imposing forts guarding the valley. This valley provides wonderful green backdrops, while outdoor sports and recreation centres have been created along the way, for example at Osselle. This stage is accessible to all.
Waytypes of the stage
Cycle path: 24,79 km
By road: 4,56 km
Surface of the stage
Lisse: 27,53 km
Rugueux: 1,81 km
Route
Greenway from Besançon to  St-Vit, except for a short stretch by road at Thoraise. At this place, there is a slope to get over a rocky section.
Train station - Sncf 
Besançon-Viotte and St-Vit stations
TER (local services) Dijon > Dole > Besançon (1 train per hour during the day).
TGV Paris > Dijon > Dole > Besançon avec espace vélo sur réservation.
Don't miss
Besançon: lively, welcoming capital of the Franche-Comté region; a Ville d'Art et d'Histoire (in recognition of its rich cultural heritage); crowned by an unmissable citadel; packed with museums; staging events year-round.
Thoraize: with its canal passing through a tunnel in the rock; its castle and chapel
Osselle: for its watersports recreation centre (offering sporting activities, beach, games area for children…).
Markets
Besançon : every days except Monday
Tourist Information centre
Besançon : +33 (0)3 81 80 92 55
Accommodation on the stage