arrow_back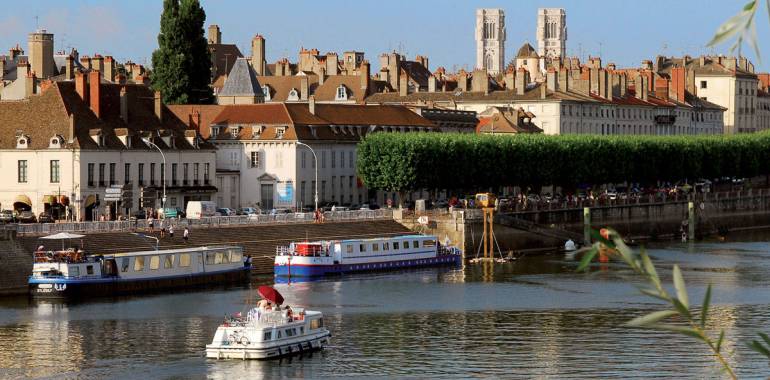 22,20 km cycling route from Chalon-sur-Saône to Santenay
This EuroVelo 6 stage takes you from Chalon to the Canal du Centre which then heads southwest to meet the Loire. This stage is especially peaceful and pleasant, running beside a canal enjoyed by fishermen and boating holiday-makers making for the Loire port of Digoin. The cycling is easy, exclusively on greenways, except as you leave town.
Waytypes of the stage
Cycle path: 19,80 km
By road: 2,39 km
Surface of the stage
Lisse: 2,52 km
Inconnu: 19,67 km
The route
From central Chalon, join the old canal in the St-Gobain Quarter by following the Paris road (the N 6, with clearly-marked cycle paths). Then enjoy unbroken greenways up to the entrance to Santenay. To arrive in the centre, use the provisional stretch along the Route de Chauchien (the D 113). Cross the railway track via Rue du Moulin Saule.
SNCF train services
Train stations at Chalon, Chagny and Santenay
TER regional line via Paris > Dijon > Beaune > Chalon > Mâcon > Lyon (numerous trains – bikes can be taken on board free of charge)
TGV high-speed line via Paris > Dijon > Chalon, with a limited number of spaces for bikes, and only if reserved in advance (6 bikes per train, by reservation only)
TER regional line via Chalon > Chagny > Santenay > Montchanin (c. 6 trains per day).
Don't miss
Chalon-sur-Saône: beautiful old buildings along the Saône quays ; the quarter around St Vincent Cathedral; Ile St-Laurent (an island); several museums, including that on photography (invented here!) – Chagny: a charming stop with a lively port, plus the pretty locks between Chagny and Fragnes – Fragnes: with a waterway stop open to cyclists – Santenay: an elegant village with a casino –  
Markets :
Chalon-sur-Saône: Friday and Sunday mornings
Chagny: Sunday mornings
Santenay: Thursday mornings (summer only)
Tourist Offices
Santenay: tel 03 80 20 63 15
Chalon: tel 03 85 48 37 97
Chagny: tel 03 85 87 25 95
Accommodation on the stage