arrow_back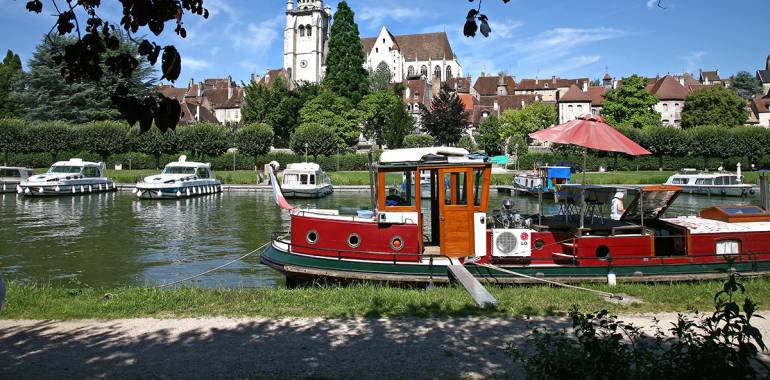 24,52 km cycling route from Dole to St-Jean-de-Losne
This EuroVelo 6 stage starts in Franche-Comté, following the Canal du Rhône au Rhin, then, as you slip into Burgundy, it takes you on to the Saône River. Here, you join La Voie Bleue (The Blue Way), leading beside the Saône to the town of Chalon. Boating traditions are strong around St-Jean-de-Losne. This stage is accessible to all.
Waytypes of the stage
Cycle path: 21,83 km
By road: 2,69 km
Surface of the stage
Lisse: 15,07 km
Inconnu: 9,45 km
Route
Greenway alongside the Doubs, then beside the canal up to Tavaux. Note the signposted detour at Tavaux, to avoid a major industrial site. Next the track continues along the canal up to the Saône, taking you to St-Jean-de-Losne along the Voie Bleue.
Train station - Sncf 
St-Jean-de-Losne train station
TER ( local services) Dijon > St-Jean-de-Losne > Seurre > Bourg-en-Bresse
Don't miss
Dole: declared a Ville d'Art et d'Histoire (in recognition of its remarkable cultural heritage); the beautiful collegiate Church of Notre-Dame; the lanes of the tanners' quarter; grand townhouses; the museum dedicated to Louis Pasteur; numerous events
St-Jean-de-Losne: a very pleasant little historic town; an important river port with a museum on river transport and traditions.
Markets
Dole : Tuesday, Thursday, Saturday morning
Tourist Information centre
Dole : +33 (0)3 84 72 11 22
St-Jean-de-Losne : +33 (0)3 80 29 05 48
Accommodation on the stage