arrow_back
Canals & intimate rivers, Castles & Monuments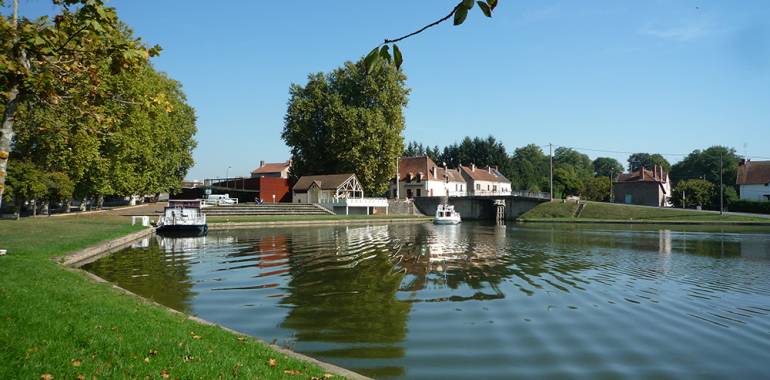 This EuroVelo 6 stage in Burgundy meanders between the Canal du Centre and Bourbince River. You pass significant vestiges left from the mining and steel-making industries that long brought activity to the canal in times past. From Palinges, the atmosphere changes as you come to the Renaissance castle at Digoine. This stage is along roads.
Route
The route takes you along the D 974 road, with moderate traffic that is manageable for cyclists. After Génelard, you're on small roads, signposted to Digoine.
Train station - SNCF
Ciry-le-Noble and Génelard stations
TER ( local services) Dijon > Chagny > Montchanin > Paray-le-Monial > Digoin > Moulin-sur-Allier
Don't miss
Montceau-les-Mines: an historic mining town with lively river port and a museum on schooling, plus the monumental  Chavannes washhouse
Ciry-le-Noble: La Briqueterie local riverside industrial museum
Génelard: impressive canal embankments, the Musée de la Ligne de Démarcation (on the World War II dividing line between occupied and non-occupied France)
Palinges: Château de Digoine, with guided or unaccompanied tours of the castle.

Markets
Montceau-les-Mines : Tuesday and Saturday morning
Tourist Information Centre
Montceau-les-Mines : +33(0)3 85 69 00 00
Accommodation on the stage