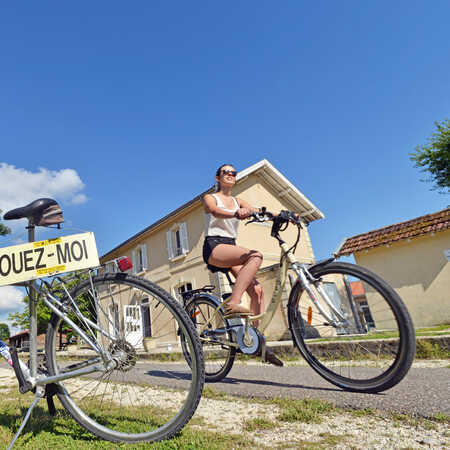 Location de vélos dans ancienne gare sur la piste cyclable Roger Lapébie © Le Canal des 2 mers à vélo - J. Damase
south
Hiring or repairing a bicycle
Our advices for renting or repairing a bicycle during your trip in France
Along the official routes described on this website you'll find bike hire and repair services carrying the Accueil Vélo (Cyclists Welcome) mark. There are also further possibilities for hiring and repairing bikes around France.
Hiring a bike in France
Professional bike hire outlets can be found in most towns and along the official France à Vélo cycle routes. Those outlets carrying the Accueil Vélo mark have to respect a national quality standard.
Certain places where you can stay and certain tourist offices also rent out bikes.
Note that the kinds of bikes for hire via city cycle schemes are not suitable for cycling tourists.
If you're joining a cycle route by train, note that certain train stations have bicycle hire facilities at the station.
Bike hire outlets marked "Accueil Vélo" in France :